A new contender for the Frugal Photographers gear bag.
I recently acquired a lightly used Canon 700D to replace my 650D. Primary reason for selling the 650D was my intention to go Mirrorless. However for various reasons ( cost being a very large reason, but not the only one ) I had to forestall that idea, at least for the short term. It quickly became obvious that to acquire something in the mirrorless world that was near equal to the 650D was going to be difficult to achieve.
Good quality used mirrorless cameras here in New Zealand fetch a premium price often going for 80% of what a new unit would set you back. This immediately rules out my buying a Fuji especially as the additional lenses can cost more than the body on its own.
The offerings from Nikon and Sony are just as expensive and dont offer the same range of lenses available as native glass from Fuji. Canon is even worse in the entry/budget mirrorless offerings and currently has little to offer in the way of M-mount lenses other than the stock offerings as a kit.
Which brings me back to DSLR's, and here Canon wins hands down. There is a large used market to choose from both locally and internationally and the Canon STM range of entry level lenses are very good, certainly much better than their previous generations.
This time I opted for the 700D as a starting point. This gives me a later generation sensor and Digic processor compared to the 650D. Hybrid focusing was also an added bonus and couples very nicely for the newer generation STM lenses. Video capability is a little better as well although this wasn't and isn't a major draw card in the buying process.
On the handling side, all the buttons and dials were very familiar with no major differences to my 650D, however the hand grip is not as big or deep as the 650D and its also smaller than the current 800D & 850D. Not hugely so, but it is noticeable, and took a little time to get used to.
Auto-focus on the 700D with the STM lenses is accurate and very very fast. As I have stated elsewhere, compared to the Mark 2 lenses on my 650D I would estimate the speed is about 50% faster acquiring focus. The STM lenses really are very good in this regard.
Images from the 700D seem a little softer than those from my 650D. It may take me a little while to really find the sweet spot settings wise to get the most from this camera and thats all part of the fun of getting to know a new tool.
The 750D came with the 18-55 STM kit lens and a small bag and charger. The original bag wasn't really good except for a little day tripping from time to time. Totally impractical for extended use.  I very quickly and for a modest cost replaced it.
The cost of the 700D was $500.00 NZD, a little more than I would really have liked to pay but still only 35% of what the camera would have cost new and approx one third the cost of a brand new Canon 850D. This at least allowed me to buy a brand new Canon 55-250 STM telephoto lens, a new SD card and a new gear bag, and still have a little left over for other extras such as a new extra battery and a new rubber eye-cup to replace the generally useless eye-cup that comes standard on the camera. I'm referring here to one of these Eye Cups for DSLR's
Like a lot of people I wear glasses and while I can set the dioptor on my camera to suit I
prefer to be able to use the camera with my glasses on, and the larger eye-cup allows this. Added to this is the fact that every-time I use the standard eye-cup I manage to mash my nose on the LCD, covering the screen with oil from my skin which is then difficult to remove. The larger eye-cup provides some relief from the EVF and helps keep your face off the LCD.
Okay so lets total up what we have outlayed thus far to sort out a basic Camera Kit based on the 700D.
Canon 700D+18-55 mm STM kit lens.(Used) — $499.00 NZD
Canon 55-250 mm STM (new) — $394.00 NZD
San Disk Extreme 90 MB/s 16 gig SD card (new) — $17.00 NZD
2 x 3-Stage Collapsible Rubber  Lens-hood (via Aliexpress)(new) — $8.66 NZD
LP-E8 camera battery (new) — $18.00 NZD
JJC EC-7 Eye cup for Canon (new) — $23.95 NZD
OMP Camera Bag (new) — $25.00 NZD
Current total for the above equals $985.61 NZD, which fits nicely inside the $1000.00 NZD Frugal Photography Budget. Still to purchase however is one more item that I have been meaning to add to the gear list for some time.
A good quality ball head, in this case the Neewer 360. This will do double duty on both my mono pod and my heavy duty tripod. One of the flaws of my heavy duty tripod is the pan head on it. Because the extendable control arm hits the legs of the tripod when I elevate the camera for astrophotography I cant always shoot images that are directly overhead. This will allow me to do so as well as position the camera in more acute angles.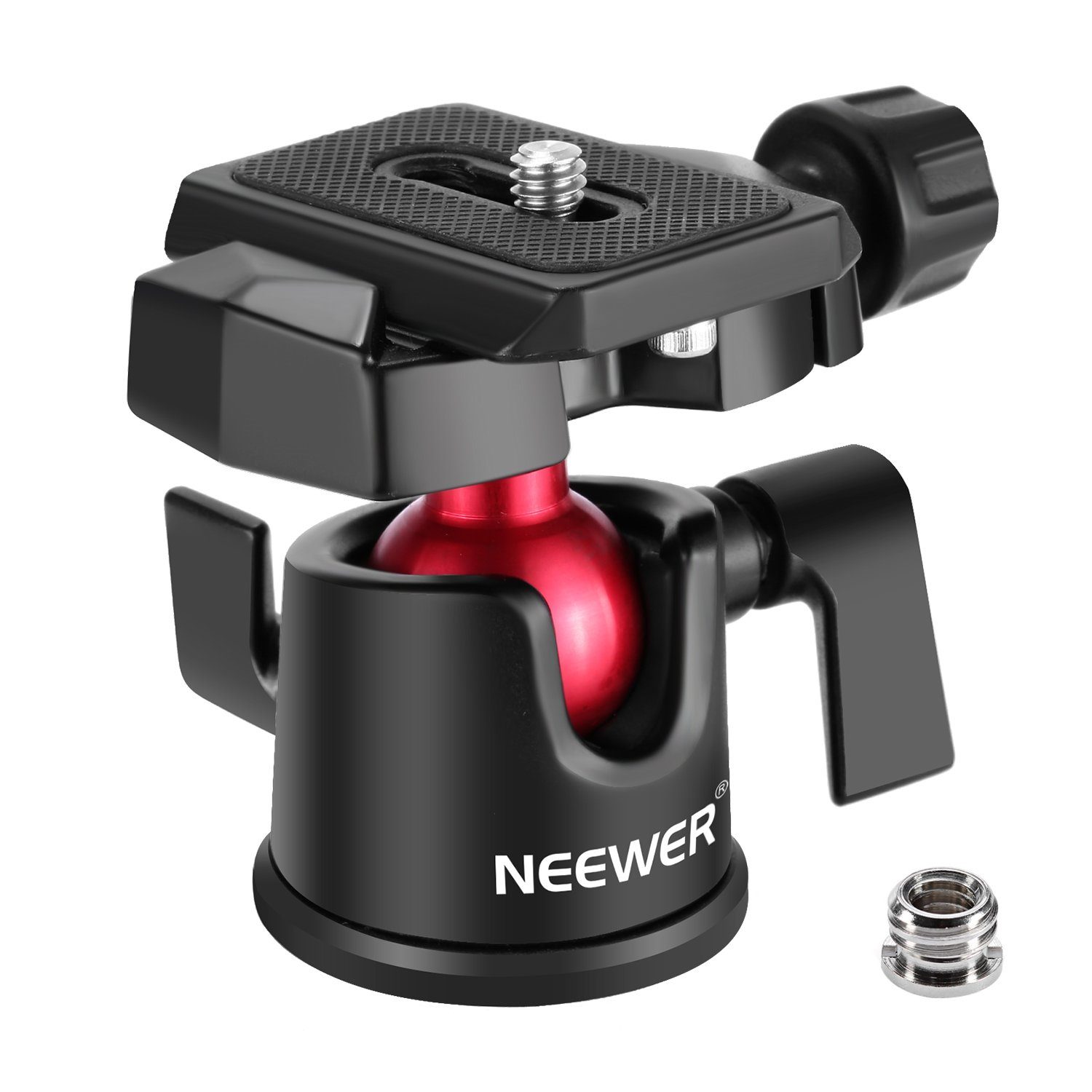 At $35.00 NZD its a cheap alternative to a much more expensive tripod. It can also be used with my mini table top tripod as well. This will put me $20.00 NZD over budget but thats something I'm happy to live with. All in all for a reasonably frugal amount in relation to new camera gear I think for $1020.00 NZD or approx $510.00 USD or a similar amount in UK pounds its a good value kit.
Admittedly I already have the monopod and tripod from previous purchases, however you dont necessarily need a mono-pod and a useful tripod to use as a starter need not cost more than $50.00 NZD and may well cost less than that for a decent used tripod.
This tripod found locally at PBtech for $51.00 NZD would be a good light weight starter tripod.
To sum up then… for around the $1000.00 NZD dollar mark we can put together a pretty good setup which should see you with more than enough gear to start or maintain your photographic journey.
Happy Snappin'